Joined

Aug 29, 2007
Likes

80
Location
I learned recently that Tom Sullivan wrote a comic book,
Books of the Dead: Devilhead
, published in 2005-2006 by Dead Dog Comics. Unfortunately, only 2 of 4 issues were released (
Issue #1
on Sep 28, 2005 and
Issue #2
on Mar 15, 2006).
There is lots of references to Evil Dead! The title itself
Books of the Dead: Devilhead
is a good start! Devilhead... Evil Dead... Very similar, but it doesn't end there! Both released issues had variant covers, very recognizable:
The variant cover of Issue #1 is Tom Sullivan's "Beloved" artwork, also used for the promotion of The Evil Dead movie: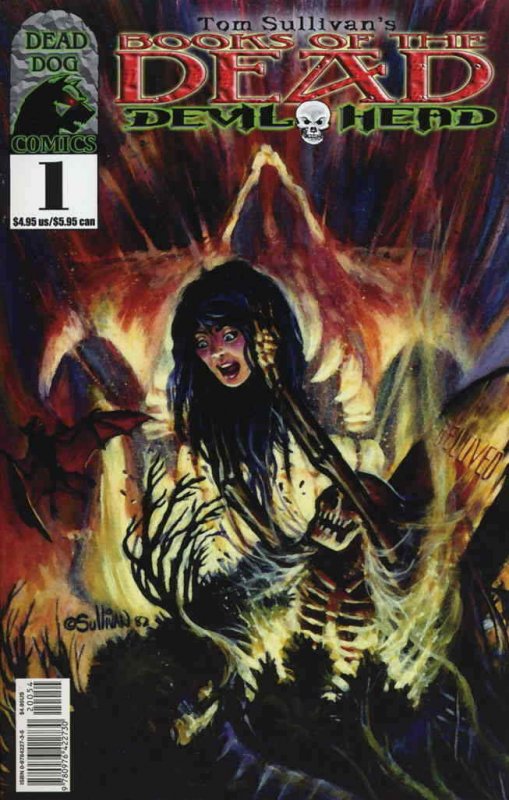 The variant cover of Issue #2 is reusing Tom Sullivan's artwork of the original Evil Dead poster:
When I read the story, I couldn't think of anything else but a sequel or a remake of The Evil Dead. In the story begins with archaeologists at the Cormoran Castle, Iraq in 1983. Iraq is the modern country name for
Mesopotamia
, the lands of the Sumerians, and maybe I'm pushing it, but I find that "Cormoran" is pretty similar to "Kandorian".
Inside an hidden chamber (again, similar to the chamber discovered by Knowby in Evil Dead 2) they find symbols very familiar (same as the ones in the Evil Dead's Natorum Demonto/Necronomicon). They also find an 'Arcane Book'. The book is bound in flesh, written in human blood. Instead of a face, the cover has a hand embossed.
When they open the book, Tom Sullivan reproduced images of his Evil Dead's Natorum Demonto/Necronomicon! They translate the books, one guy say a passage out load, and the camp is attacked by demons looking as zombies.
In issue #2, it's now 1984, and the Book of the Dead is kept in a safe by Archaeologist George Taymor. It seems that spores is what infected the soldiers at the camp. The coded language of the book is revealed to be 'Cinosian' (or 'Cinosnian'), and the text is a how-to manual for a cult, with instructions for ritual to summon the demon of mutilation...
Things goes awry and the evil is unleashed once more! Too bad Issue #2 end with "To be continued..." but the story was never finished.
I tried to find more info about it, and the reasons of the cancellation, but my research was in vain... However, it looks like Dead Dog Comics was only publishing books from 2001 to 2006. I guess the company ended, leaving that comics (and maybe other titles) unfinished. Again, it reminds me of Space Goat Entertainment who never finished their Evil Dead 2 comic book series...
Anyway, is anybody here know more about it? Could be great if Tom Sullivan had the chance to finish the story!
EDIT:
Just found out that
Tom Sullivan Interview
:
DW: Well, I did find out you wrote a comic sometime ago. That must have been a fun creative project to check off your artist bucket list?

TS: That was for Chazz DeMoss' Dead Dog comics. I wrote a 4 issue comic called Tom Sullivan's Books of the Dead: Devilhead. While all 4 issues were created, only the first 2 were published which is unfortunate, because the artwork was amazing! Good story, too. I'm hoping Chazz will publish it as a graphic novel someday.
Last edited: