I May Be Bad But I Feel...Good....
Staff member
Joined

Mar 31, 2013
Likes

406
With the permission of all mods, I'm opening a new thread for discussing the ongoing Dynamite Comics  run!
Here's the cover of the next issue of the Hail to the Queen arc: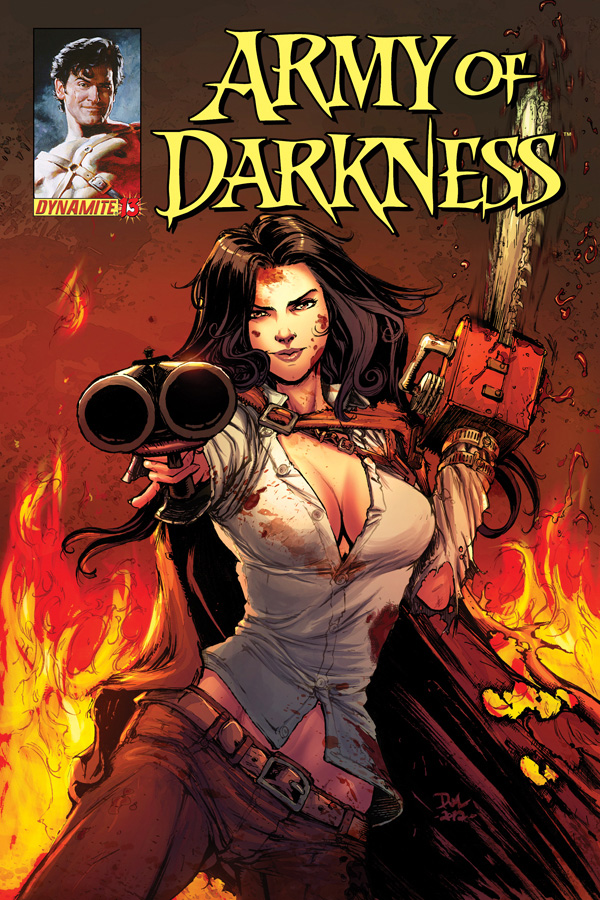 I'm currently two issues behind, so I'll just give my thoughts on the arc really quickly, then open the floor to debate: Spoilers for issues 1-8 under here:
I was really, really excited for this arc, and the first three issues kept me going: who wouldn't want to watch Ash kill Deadite Nazis in Brazil with his female counterpart from another world.  I loved the execution and idea behind Ashley K Williams and what they did with her.

Buuut the last three or so issues have lost their way a bit, starting with a confusing split in which Ashley K. kills an alternate version of Ash in an alternate version of Kandarian hell.  This is apparently the version of Ash who resides in the Regeneration video game, judging from the existence of Sam the Deadite as his sidekick.  That sends us into what I think's been the best part of the storyline thus far: a trip into Ash's adolescence, where we find out he and Linda were junior high school sweethearts and he had no idea how to ask her out on a date.

Apparently, the "Ash Prime" of the storyline's the one who was tossed into 70's Japan, then back home again, after taking a side-trip to the Prohibition era.  I liked this little fill-in on Ash and Cheryl's grandpa here: they're descended from a G-Man, and Ash is, in a way, named after him (the J stands for James).  I'm looking forward to seeing how they're gonna wrap this up, and I hope they can recover from their missteps.
Also upcoming: Army of Darkness vs Hack/Slash, where Ash teams up with Cassie Hack to kill demons.  Whoever did the variant covers has a fondness for comic art: